Skin Lightening – Here's What You Should Know
Are you worried about those dark patches on your face and looking for clear, flawless skin? We, at OKDERMO Skin Care, understand your frustration as these dark patches are difficult to get rid of. We all know that there is no such thing as a "magic bullet" when it comes to skin lightening.
No worries!
The good news is that your skin can glow again and we assure you that skin lightening is real. This article is going to give you a deep insight into the most effective skin lightening products and treatments. Let's first have a look at what skin lightening treatment actually is and how it works.
---
What is Skin Lightening?
Your skin and its beauty are probably the first things people look at. So a desire to make it look clear and flawless is natural. We all have baby skin when we are born. But thanks skin aging, environmental factors, UV radiations from the sun, and various toxins, cause our skin to develop dark patches of hyperpigmentation. They may also be caused by an acne breakout that left scars or maybe stretch marks that appeared during pregnancy and later becomes permanent. These scars are much deeper in color and usually very prominent.
With the advancement in the cosmeceutical industry, there is an increased debate on skin lightening treatment and the debate made a boom in skin lightening products such as skin lightening creams for face or laser treatment.
Skin lightening refers to a cosmetic procedure on the skin to reduce the appearance of dark patches and to give it a more even tone. The process is also known as skin bleaching or skin brightening. The subtle change in skin color after skin lightening treatment is perceived more as a glow. (1)
Skin lightening is mostly used by people to treat skin problems such as dark spots caused by hormonal imbalance, age spots, and acne scars. Naturally, dark skin may also be lightened by the treatment.
---
Skin Lightening Products and Treatments
The major determinant of skin color is the amount of melanin pigment in it. This pigment is produced by specialized cells in the body called melanocytes. The more the amount of melanin in the skin, the darker will be its tone. Melanin gives your skin a tan whenever it is exposed to the sun. That means people with darker skin have more melanin. So the main target for the action of the skin lightening products is melanin.
While you start your daily skincare routine for flawless skin, we are going to give you a deep dive into some of the skin lightening treatments available so you can make a well-informed decision based on your needs.
Exfoliation is the ultimate practice to lighten your skin tone. Melanin is the culprit for your acne scars, age spots, sun spots, hyperpigmentation, and melasma. Exfoliation helps remove abnormally pigmented cells.  Dr. Marisa Garshick, a U.S based dermatologist recommends exfoliating your face and body at least once or twice a week for best results. Exfoliation will replace the older, dead cell with newer, healthier ones. (2)
Check out premium quality chemical peels for exfoliation at https://okdermo.com/product-category/anti-aging/chemical-peel-products/
UV radiation from the sun affects the skin tone and tans it. "We know that UV rays can lead to brown spots and changes in skin texture which can leave some areas of the skin looking dull," Dr. Garshick says. Preventing your skin from the sun is key to keeping your skin light and bright. Sunscreens are here to serve this purpose. (3)
Sunscreens daily are also important when using a skin-lightening product. This prevents an increase in the concentration of melanin hormone and the results of your labor. With a wide variety of sunscreens, OKdermo is giving you a chance to choose the one that suits your skin the most.
Check them out at https://okdermo.com/product-category/skin-lightening/sunscreens/
Dermatologists also recommend using vitamin A derivatives such as retinol and retinoids to remove the dark spots. Their lightening properties make them suitable ingredients for skin lightening creams for face. These skin-lightening products help in normal skin turnover by bringing new cells to the surface. This helps give the skin an even tone and makes it glow.
Retinoid creams and serums stand the 1st place in treating signs of skin aging including hyperpigmentation and melasma. They fade the dark patches and promote the production of major skin proteins, collagen, and elastin. (4) Tretinoin is the main active ingredient of retinoids.
Check them out at https://okdermo.com/product/tretinoin-01-percent-cream-buy-online-otc/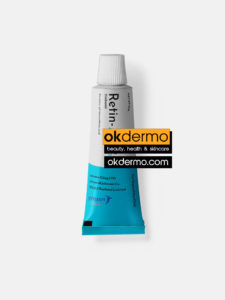 Glutathione Infusions / Injections
Glutathione is naturally produced in the human body as an antioxidant. It acts as a free radical scavenger, a natural antioxidant, and an important component of liver detoxification. Glutathione offers multiple anti-aging effects such as removing blemishes, improving the symptoms of acne breakout, promoting collagen production, and improving overall skin quality.
Glutathione infusions, Glutathione pills and topical gels are available via OKdermo. They lighten the skin by inhibiting tyrosinase, an enzyme that converts tyrosine into melanin. It works by inhibiting the production of melanocytes and thus melanin. This way, it counters hyperpigmentation to give your skin a brighter tone. (5)
Take Vitamin C
Vitamin C aids in lightening the patches that are lighter than the rest of your skin called hyperpigmentation. Vitamin C is also a powerful antioxidant that prevents and treats changes associated with photoaging. (6)
In 2019, the Journal of Clinical and Aesthetic Dermatology published a study based on the effect of topically applied vitamin C on skin spots caused by photodamage. The results showed vitamin C to be highly effective in preventing the signs of hyperpigmentation caused by sun damage. (7)
Facial bleaching and lightening creams are at the core of skin-lightening treatment. Skin Lightening Creams containing pure hydroquinone  4 percent, kojic acid, Vitamin C, glutathione, retinoid gel, and corticosteroid creams are best known for their bleaching properties. In the U.S, hydroquinone is the most widely used ingredient in skin-lightening creams. The FDA regulates that skin lightening creams for face use in the U.S can contain hydroquinone up to 2%. (8) Licorice extract, glycolic acid, tazarotenic acid, butyl resorcinol, arbutin, mandelic acid, resorcinol, oxyresveratrol, lactobionic acid, mulberry extract are also commonly used ingredients in anti-hyperpigmentation products.
Your doctor may prescribe you a high potency skin lightening cream. But if you are keen on online shopping, over-the-counter skin lightening products are also available online from different countries. Let's have a look at a few of the best skin-lightening products you can also order online.
---
The Best Skin-Lightening Products For Face
Hydroquinone 4% whitening cream is indicated for gradual bleaching of hyperpigmented skin conditions. The cream is specially designed to remove scars, melasma, freckles, and dark patches. The active ingredient, high-potency pure hydroquinone is the most effective treatment cream for skin discoloration. The cream works by penetrating and purifying the deeper skin layers thus erasing spotted areas and blemishes.
Retin-A cream is a vitamin A derivative used to treat acne. Tretinoin 0.1% increases skin cells turnover and reduces their tendency to stick together. The cream is also used to remove dark spots, freckles, and melasma by replacing the older skin cells with newer ones, thus lightening the skin.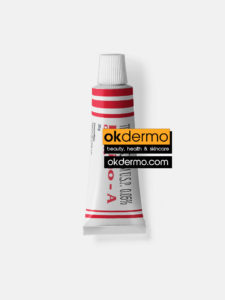 Minimalist Tranexamic 03% Face Serum
This tranexamic acid skin lightener by Minimalist is an economic option to consider for dark skin. It pairs tranexamic acid with hydroxyphenoxy propionic acid for both skin lightening and moisturizing. This unique combo helps fade dark spots, moisturizes dried-out skin, and gives a glow to a dull complexion. The serum is a powerful formula to reduce melasma and scars.
With the power of 3% tranexamic acid and 1% Hydroxyphenoxy propionic acid, it inhibits melanin transfer and prevents the damage caused by ultraviolet radiations. Tranexamic acid in this serum is a new-generation molecule that inhibits melanin synthesis by interfering with the interaction between melanocytes and keratinocytes.
As one of the most promising skin-lightening creams, this formulation is designed for anyone suffering from persisting sun damage, acne scarring, melasma, and/or hyperpigmentation. With its strategic mixture of pigmentation-busting azelaic acid, Aziderm is one of the best skin lightening creams on the market for combating those pesky scars and spots.
Combining the skin lightening properties of tranexamic acid and arbutin, this pigment-correcting cream by La Pristine Bioceuticals may help if any kind of dark patches is torturing you. Along with kojic acid, this skin lightening product is a brightening powerhouse and works to improve skin regardless of its type. In addition to giving the skin a youthful look and supporting a healthier and happier protective skin barrier, it also aims to prevent the formation of future dark spots and patches.
Specially formulated to combat dullness and hyperpigmentation, this professional-grade formula by Galcare Pharma utilizes tranexamic acid along with niacinamide, kojic acid, and arbutin. The combination of the two acids helps to improve skin clarity over time. This intensive formula employs ginseng extract to lessen the dryness caused by tranexamic acid. Hyperpigmentation will fade back with sun protection factor 50.
Laser Skin Lightening
Laser skin lightening treatment is an alternative approach to fading the dark patches on your skin. The laser works by breaking the melanocytes, the cells that produce melanin to remove hyperpigmentation but the process doesn't suit everyone. After you have made up your mind of getting the laser treatment, your dermatologist will test a small area of your skin before starting the treatment. This is because everyone is not a suitable candidate for the treatment and you may experience the adverse effects of the process. Prior testing will help the doctor in making decisions.
---
A Word From OKdermo
OKdermo skin pharmacy is an online store and is the best place to buy skincare products online. OKdermo sells all types of skin care products, cosmetics, cosmeceuticals, professional-grade SPA products, and health, wellness, and beauty products of various brands OKdermo is offering professional-grade high-quality skin lightening creams for face and serums. Check out the whole line of anti-hyperpigmentation products at https://okdermo.com/product-category/skin-lightening/chemical-skin-lightening.
To check out more of our products and for more info, visit our website https://okdermo.com/
---
References: